Brand Marketing 17 November 2022
Which categories are best placed to leverage personalization at scale?
Personalization is a powerful tool for adding value to consumers. But where can this tool be effectively leveraged? Our study reveals the categories where personalization can play for your brand's advantage.
In our latest instalment of the Growth Series, we report on a powerful tool that can provide added value to individual customers: personalization. While this concept has been discussed widely in other industries, we see potential for the CPG industry to leverage this as well to improve customer engagement and retention. In our study, we found that many brand owners have avoided implementing personalization at scale due to their assumptions of how relevant it would be to deliver personalization efforts to consumers in different categories. However, in this piece, we share our analysis of where real opportunities may lie, in order to enable more creative, unique customer experiences with brands, which are both relevant and interesting for consumers.
"Personalization at Scale will become a central aspect that will redefine the whole industry."

Global Business Unit Head at a Multinational Food & Beverage Company
Why personalization at scale is important to the future of CPG
Personalization will be a key element to consider for the future of CPG in addressing evolving consumer expectations, and facilitating greater customer engagement. Personalization delivers growth for brand owners through increased consumer engagement, loyalty, trust and delivery of a premium experience. As consumers view personalized offerings as more mainstream, expectations for personalized experiences increase. Meanwhile, technology is increasingly able to empower personalized offerings, particularly using artificial intelligence. Also, there is a correlation between marketing personalization and revenue growth (McKinsey, 2021).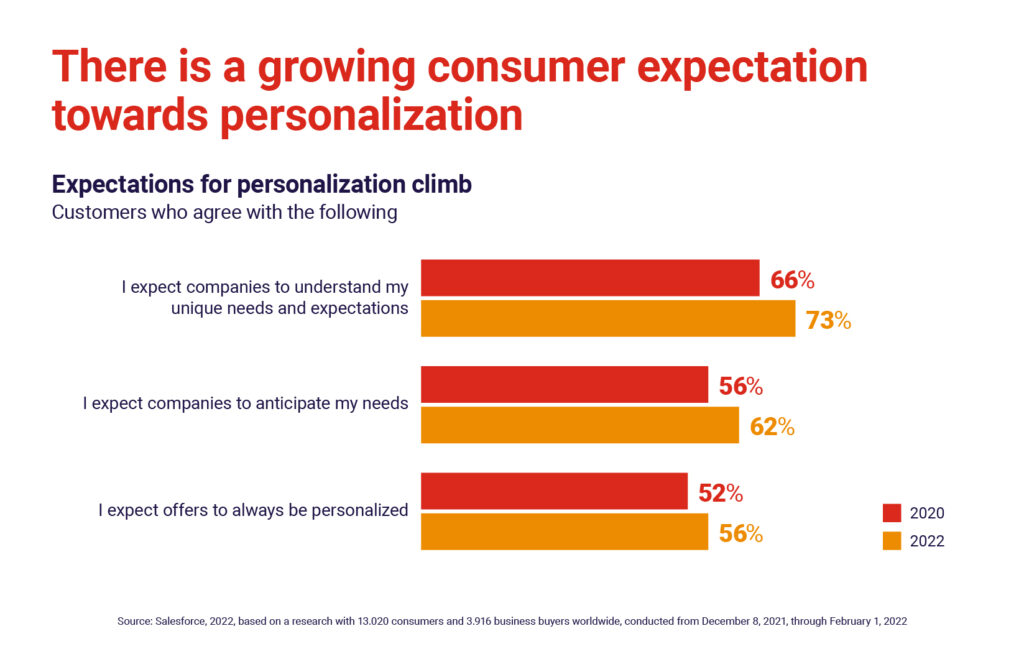 We have spoken before about the potential for personalization at scale to impact consumer trust and loyalty. There is also the potential to optimize marketing and sales investments for CPG categories. Consumers are already exposed to other sectors in which personalized offerings are advanced – particularly in the entertainment and automotive industries, amongst others – and so the CPG industry has an opportunity to leverage the increased awareness and understanding of the personalized offering and take steps to meet consumer expectations.
The challenges of implementing personalization at scale
There are multiple challenges and perceived barriers to implementing a personalization strategy:
Lack of strategic perspective – 40% of brands have never tried personalization at scale as part of a marketing campaign before, and only 10% have tried personalization repeatedly. We have seen a lack of understanding of how this strategy might be implemented, which has been a far greater barrier to implementation rather than a lack of ability to manage PaS once it is understood.
Perceived cost – the main barrier to implementation, outside of a lack of strategic perspective, is to do with the perceived cost linked to increased complexity.
Organizational and mindset blockers – a lack of understanding of the potential of personalization to deliver customer retention and a limit on the flexibility within an organizational culture are also contributors to a lack of implementation.
Despite these elements, greater access to the right data provided by technology has helped to make personalization possible. Understanding customer behavior and providing personalization across touchpoints is now more possible than ever – but deciding where to play is required first. Here lies our key question: where are the opportunities for improving customer experiences the richest?
Where the opportunities lie: The four category clusters for customer-centric innovation
In testing the relevance of personalization with consumers vs companies, we found that there was a much greater range of assumed relevance from the perspectives of companies. In other words, companies perceived different categories as far more varied in relevance. However, consumers did not share this view – they were far more likely to see a similar relevance across most categories. Consumers are therefore potentially more open to personalized experiences in certain categories that companies tend to overlook. Here lies a huge opportunity for brands to offer a customer experience that enables greater retention, boosting the lifetime value of your marketing efforts.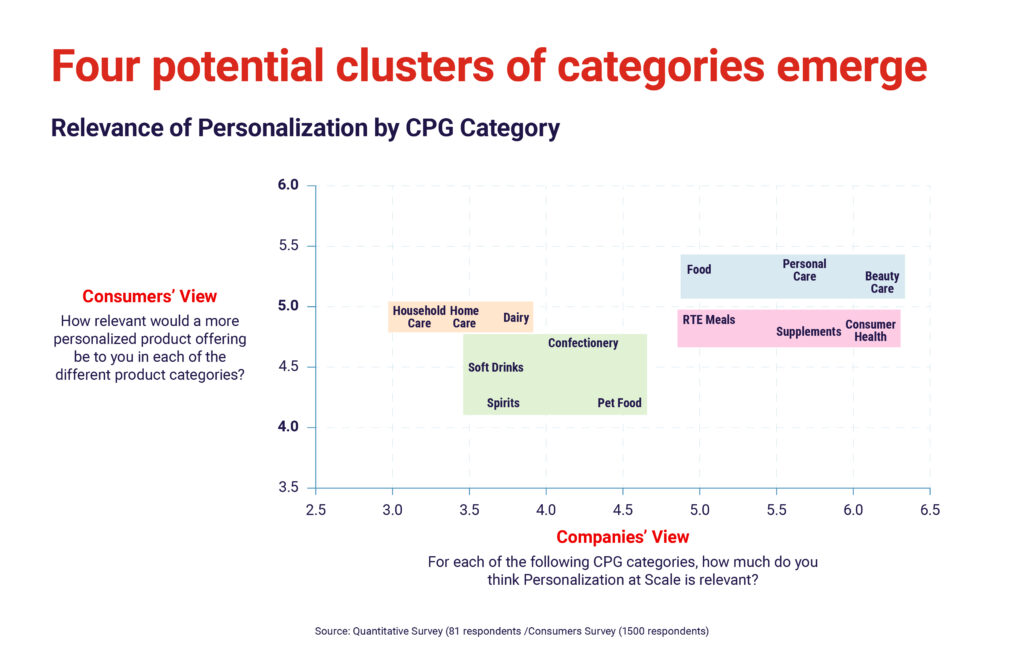 Bringing together the perspectives of brand owners and consumers on how different categories may be ripe for personalization, four distinct clusters emerge:
Lower priority categories for both consumers and companies such as Soft Drinks, Confectionary, Spirits, Pet Food
Categories where companies are more invested than consumers such as RTE meals, Supplements, and Consumer Health
Categories where consumers have a high propensity and in general companies are aligned, such as Personal Care and Beauty, except for Food where the demand is not yet being met
Categories with untapped potential, where companies haven't yet realized that there is a higher consumer demand than anticipated, such as Household Care, Home Care, and Dairy
Understanding the consensus versus lack of consensus between brand owners and consumers in creating personalized offers
Business owners perceive certain categories as more fit for personalized experiences. Namely, Beauty Care and Consumer Health receive the bulk of attention from brand owners at present.
However, more broadly, the concept of personalization within CPG still feels new to consumers, which impacts perceived relevance. While consumers are on board with personalized offerings in other industries, there is a limited use of personalization in CPG, making this a strategy that is a ripe ground for innovation. Customer expectations continue to shift, and our study confirms that consumers are open to personalization in several categories that are currently largely overlooked by brand owners, including Household Care, Home Care and Dairy. There is also a lot of room to introduce more offerings where demand is not currently met in Food, Personal Care and Beauty Care.
Wrapping up
At Sevendots, we have developed a framework to assist with the effective implementation of personalization at scale. This considers three key steps:
Defining the strategic role and ambition of personalization at scale for your business
Selecting the territory where to play with the personalization of your offer
Developing an executional path, identifying the most meaningful and effective way to personalize your offer
Discover more about how to implement personalization at scale and serve lifetime value for your consumers by downloading our latest Growth Series report. With the right steps, personalization at scale can form an effective part of your strategy, responding to consumer demand and helping ensure a positive payback for your brand. Implementing a strong and effective personalization strategy starts here.