Brand Marketing, Brand Purpose 13 April 2022
How should brands respond to a social or political crisis? The CPG response to Ukraine
Observing the varied CPG responses to the Ukraine crisis has prompted us to question: what should brands be doing in a social or political crisis?
As active members of the CPG industry, we have been observing the varied responses to the Ukraine crisis from brands across Europe and the globe. It's a delicate moment for the world, and as the war continues, the effects continue to ripple outwards. All this has prompted us to question: what should brands be doing in a social or political crisis?
We conducted some research into the opinions of consumers and hope to bring together these insights alongside our advice to guide brand owners and add to the debate. We believe in the importance of taking a stand in the face of a crisis, and in this piece, we explore how this can be achieved.
What is the role of a brand in a social crisis?
From the moment we learned of Russia's invasion of Ukraine, companies have been under the microscope. The nature of the crisis has highlighted the complexity of European politics and international alliances, as well as the challenges of dealing with Vladimir Putin or taking any action that may be perceived as aggressive. Short of more incendiary options, the world has turned to economic sanctions. This has prompted some of the most severe sanctions in history against Russia, with the country's currency fluctuating wildly before beginning a recovery. The actions of companies have been key to consumer understanding of what can be done to demonstrate opposition to the violence in Ukraine.
What do consumers expect from brands today?
Curious to understand the expectations from consumers, the Sevendots team has conducted a Pulse survey of 1600 consumers across the US and UK.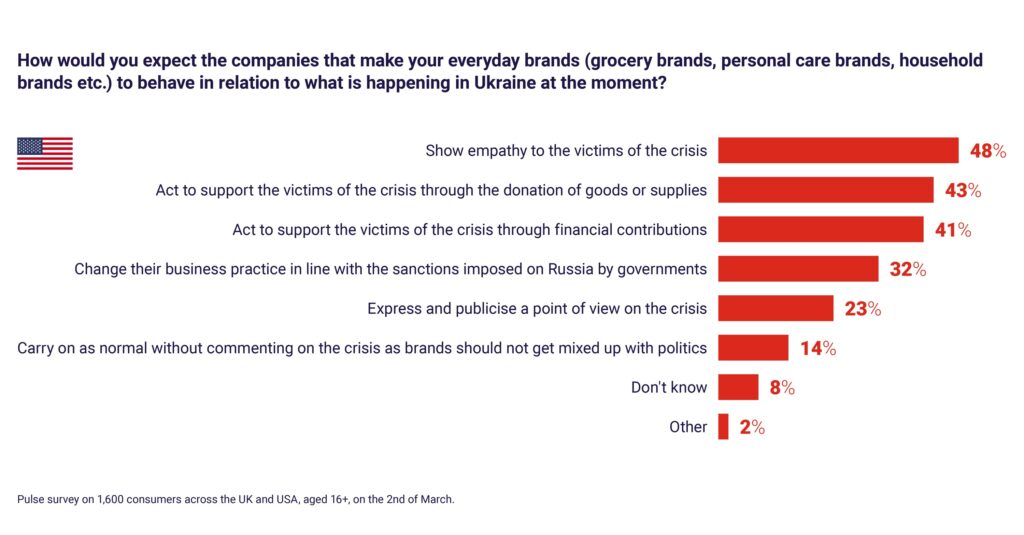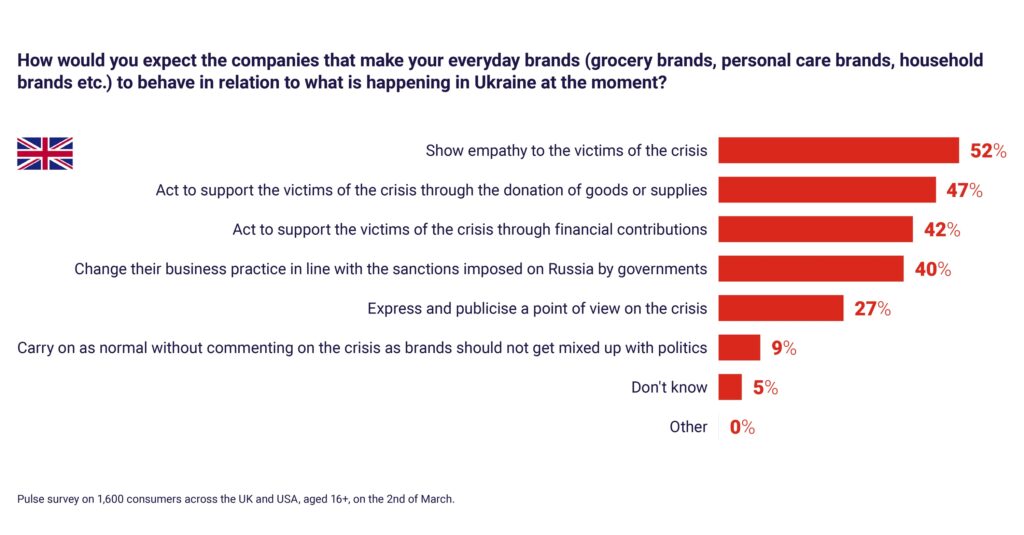 We found that only 14% of people surveyed in the US, and 9% in the UK, stated that brands should not get mixed up with politics. The vast majority of respondents, therefore, wanted some kind of statement or action from the brands they engaged with. But what should the nature of this be?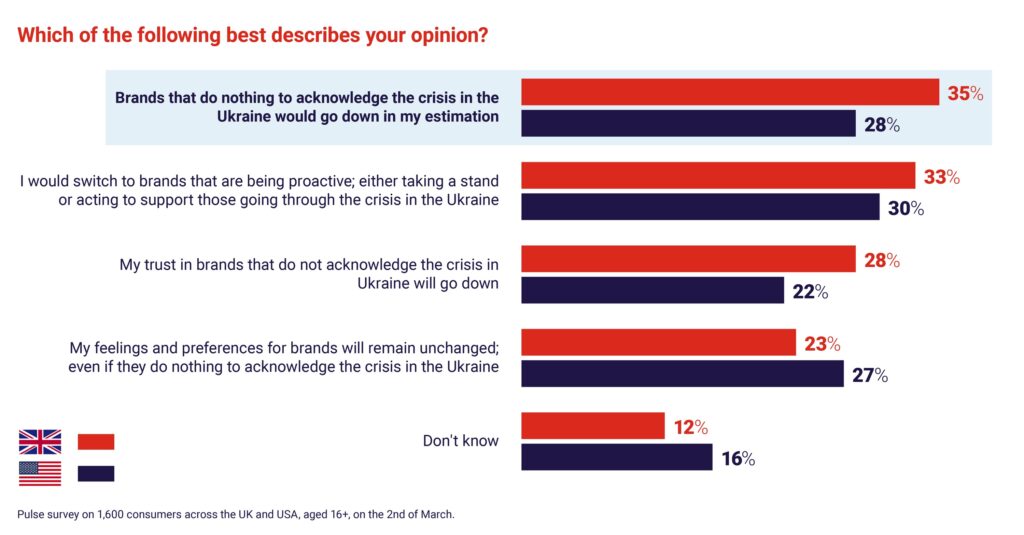 Consumers made the following comments about what they'd like to see. At a minimum, many wanted to see some outward communication and advocacy:
"Posting to educate and show sympathy."

"Exhibit empathy and support where it is relevant and actionable rather than a PR exercise."
Beyond this, many wanted visible action that was credible and directed at humanitarian efforts:
"Lead by example with donations [of] goods or money."

"Donating money and resources; not just "showing sympathy" in words but actually demonstrating action."

"Send a portion of their profits to help the people of Ukraine. Or send goods and supplies they need."

"Supplying goods where possible or supporting refugees with goods in line with their ability, based off of the huge profits they make."
Some felt a redirection of current efforts was required:
"Brands that gift products to influencers should donate goods to the crisis instead."
Allocating blame, however, was not part of the picture:
"I think they should acknowledge [the crisis] and help but not unfairly treat the Russians as it's their leader in the wrong, not the people."
There was also regular mention for the need to connect these actions with sincere and authentic values behind the brand (in other words, a Purpose):
"There are people struggling from war all over the world; humanitarian support should be a norm, not a PR stunt."
Criticism and doubt crept in on this front – whether any brand's action would be sincere enough:
"[Brands] shouldn't be doing anything; I always find that to be a marketing ploy and disingenuous."

"When brands get involved in politics it rarely feels sincere."
And then of course, there were a few respondents who felt this was not the place of a brand at all, or who felt that the involvement should really be limited to humanitarian efforts:
"Not sure if they should be involved apart from the humanitarian issue."

"[Brands should be] keeping out of it. It's for the government to sort not them."

"I just want to get my shopping and not constantly be bombarded with political news."
While responses were broadly pro a response from brands, it is clear this has still to be handled with care – that emphasis is on action that is demonstrable, and not mere lip-service. Balancing these efforts in line with existing consumer expectations from a brand is key, and this must refer back to the values already established before the crisis began.
How have CPG companies responded to Ukraine so far?
Publications across the net have created lists, such as this one from the Yale School of Management, clearly illustrating the actions (or inaction) of companies across the globe.
We analyzed the actions taken by 62 multinational CPG brands in March. We found that at the time:
30 brands completely suspended operations in Russia
11 reduced their operations to essential only
16 suspended investments
7 brands have donated resources to support Ukrainians
Some brands have taken more than one action. However, 5 brands decided to continue their operations in Russia, as normal. These actions have continued to change and develop over the weeks, as the crisis has continued.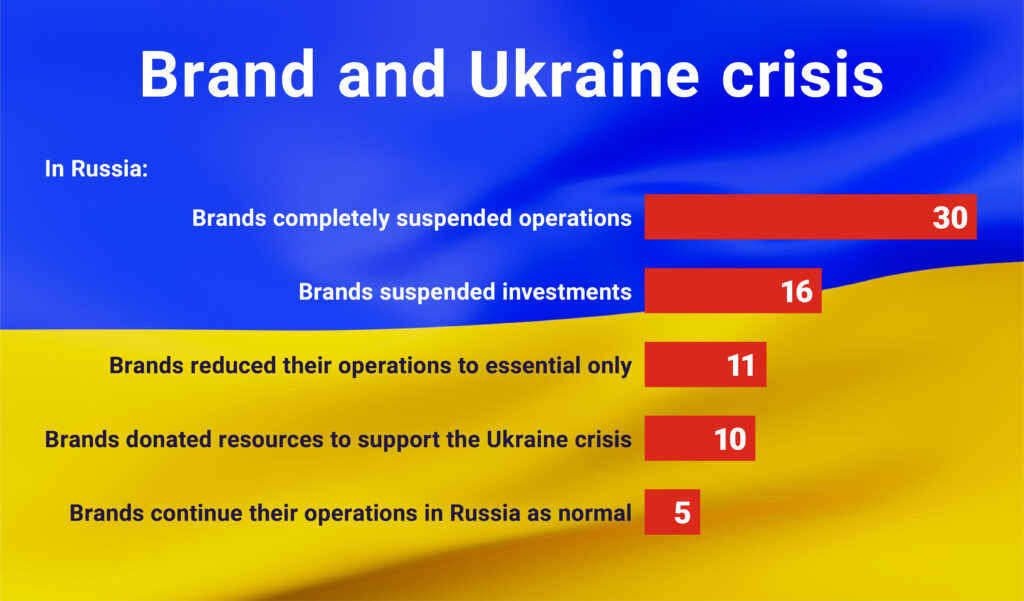 According to the Edelman Trust Report 2021, 54% of consumers expect at least a public statement within 2-3 days of an issue emerging.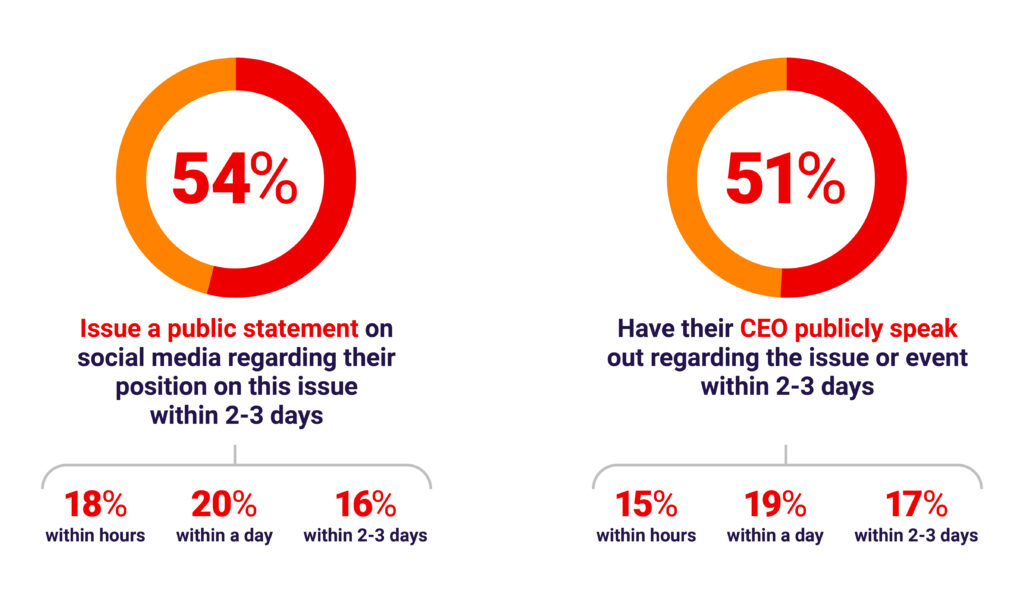 Analysis from Food Business News showed that actions taken by CPG companies so far fall into 5 broad categories:
Withdrawal: companies who have completely halted Russian operations. An example here is Aldi, as the retailer has removed products from Russia.
Temporarily curtailing operations: this category have left the door open to additional or different actions. Companies in this group as of March 23 included Burger King, Coca-Cola, Grupo Bimbo SAB de CV, McCain Foods, McCormick & Co., McDonald's Corp., Papa John's International, Inc. and Starbucks.
Scaling back operations: this includes companies reducing current operations and holding off on any new investments. As of March 23rd, they included Bunge, Kellogg Co. and PepsiCo, Inc.
Buying time: this category of response involves companies that are holding off on new investments and development but have not determined further actions as yet. As of March 23rd, these included ADM, Barilla, Cargill, Danone SA, Dunkin', Focus Brands, General Mills, Inc., Kraft Heinz Co., Lamb Weston, Mars, Inc., Mondelez International, Nestle SA, Subway and Yum! Brands.
"Digging in" (neither exiting, nor reducing activity in Russia): Stocks of these companies plunged between 12% to 35% after Russia invaded Ukraine.
We have seen companies moving between categories of response. In particular, we might look at Nestle, whose initial caution was met with significant criticism from the Ukrainian President and Prime Minister, alongside hacker activist group Anonymous (as discussed here and here).
The importance of taking a stand: Our societal contribution system
The Sevendots societal contribution system is our way of understanding and explaining the societal contributions available to all brands. Sevendots Partner Andrea Bielli explains, "We believe that brands and companies should ideally be involved in all 4 pillars, as consumers expectations towards social contribution has and will continue to increase. Brands have become and are seen as full members of society and are expected to react and interact to its dynamics."

In addition, Sevendots Partner Colin McAllister notes, "While immediate attention should be towards Advocacy (namely, standing up for a peaceful resolution, and making clear business decisions in Russia) and Philanthropy (such as providing concrete support to the Ukrainian population, both on the ground and as refugees), it's important to take these steps not as a communication or image-building exercise but as a manifestation of one's reason for being in business." In other words, a brand's Purpose drives the type of action that may be taken and be deemed authentic by consumers. Regarding the last pillar, Sustainability, Colin adds, "Sustainability in this case is less relevant in the immediate, although of course there will be implications on sourcing, as well as social and environmental responsibility, that will need to be managed coherently." This is not the time, therefore, to step back from commitments already made in terms of sustainability.
In all, "The Ukraine crises requires brands and companies to take a stand," Andrea says. "It affects the Advocacy pillar specifically. The vast majority of consumers we interviewed in the US and UK are expecting brands to say and do something about the situation. We know from other studies, too, that the majority of consumers expect a brand and company to react very rapidly to something major impacting society. Not taking a position can be harmful as consumers are observing and judging what brands and companies are saying and doing."
All in all, brands have the opportunity to do social good while demonstrating their ethical position, by taking substantive action and participating in Advocacy and/or Philanthropy. Actions taken are seen as vastly positive. Not taking a stand remains the riskiest choice of all.