Growth 21 March 2018
Brand Penetration: Why Winning Brands Are About Winning The Popularity Contest
Love it or not, in this day and age, across the global landscape… brand warfare has suddenly transformed into a brand popularity contest. Where the meek shall inherit the earth because they now have more friends. Or, in this case, more Brand Penetration.
Note: This is from our old blog and is no longer being updated. It was originally published in 2018.
For you see, Brand Penetration is the principal measuring device for market success by which CPG brands from all over the globe are now being compared.
Rather than spending more and more on traditional marketing strategies, the fastest growing brands in the global marketplace are now experimenting with new ideas to accelerate Penetration growth. With each passing day, there is a long grocery list of more and more brands now focusing their strategic marketing efforts on "growing their number of customers" vs. "growing how much their current customers buy".
Traditionally, most brand strategies have called for tapping into a well-segmented group of shoppers, getting them to try their brand and then progressively converting them into avid consumers, who buy larger and larger quantities over time. And while this Frequency approach may appear attractive, new evidence suggests that it simply doesn't work as well as a Brand Penetration approach – and certainly not as a long-term growth strategy.
So here at Sevendots, instead of taking this new branding approach at face value, we set out to dig deeper to unearth the hidden truths about Brand Penetration and how CPG companies can continue to grow in today's constantly changing marketplace.
The curious, passionate, sceptical side of us… inspired us to conduct an extensive study, reviewing and analyzing vast resources of literature and industry commentary on Brand Penetration. We then took it one step further and interviewed over 30 senior brand leaders and over 155 marketers from prominent, multi-national CPG companies.
From our comprehensive survey, and from the distinguished perspectives from world-class marketers, we have determined Brand Penetration is indeed one the most important growth strategies for brands across the globe. Our findings revealed that over 66% of our respondents believe that increased Penetration was responsible for their brand's growth over the last five years.
This observation, along with our own findings, also aligned with other larger quantitative studies conducted by a cross-section of international entities, showing a direct correlation between Brand Penetration and volume growth.
Brand Penetration Can Be Successful At Any Age
Throughout our industry, there is a common belief that Brand Penetration is somehow more important to growth for "younger brands" rather than more established brands.
Yet, given the findings from our study, as highlighted in the chart below, we have in fact discovered that Brand Penetration is equally important throughout the entire life cycle of a brand – with only a marginal difference between the younger and the more mature brands.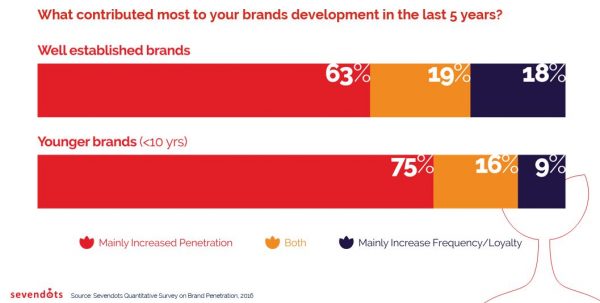 Furthermore, we found that when we analyzed the Top 15 Global Brands with the "most household penetration", there was still plenty of room for growth for all – as shown in the chart below.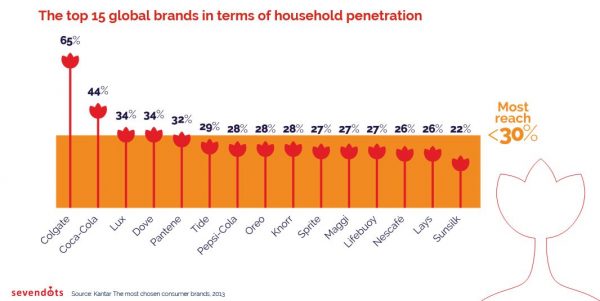 Aside from Colgate (65%) and Coca-Cola (44%), the majority of the brands above struggle to achieve even 30% household penetration. For Colgate, the global leader in toothpaste, one of the primary reasons for their Brand Penetration success can be attributed to their one-brand consistency across all geographies and thus creating a "globalized asset".
Why Frequency Is A Frequent Marketing Mistake
Any time you can persuade a customer to consume more of your brand, it is, of course, a good thing. Although, often times, those short-term gains can come at the expense of long-term growth. In fact, Brand Penetration is now regarded as a much more profitable marketing strategy than Frequency. And here's why:
First, when you focus on Penetration, you will subsequently impact Frequency, as well. Whereas the reverse is much less true. By focusing on Penetration, we remove brand non-user barriers, which in turn increases also Frequency of brand users.
Secondly, there is a common misconception among marketers who believe that retaining an existing consumer will bring more value than recruiting a new one. Based upon our research, we have actually discovered the opposite to be true. By increasing your customer base, Brand Penetration will deliver a much higher return than Frequency.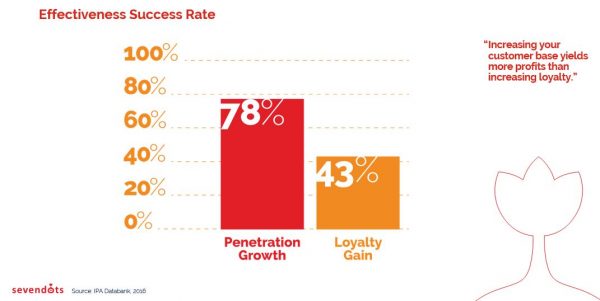 A similar study by the Institute Of Practitioners In Advertising also provided quantative evidence when they examined where "profit margin is generated" within a customer base, concluding that Penetration did indeed bring more value than loyalty. Thus, debunking the long-held belief that a loyal customer with good Frequency was more valuable to a brand than Penetration.
To further support this position, let us consider for a moment how Frequency is often increased. For instance, brands can either increase the size of each unit sold, reduce the number of times a consumers has to make a decision, or they can put their products on promotion, encouraging consumers to stock up.
There is a problem with that strategy though. By increasing pack size, brands typically see their profit margins decrease because the consumer expectation is that with more volume purchased there should be more discount.
Yet, from a Brand Penetration strategy, we might instead reduce the size of each unit sold in order to gain more new customers, who are now more enticed to trial. The profit margin would also increase on the smaller unit size and more items would more likely be sold.
Some Final Penetrating Thoughts About Growing Brands
For as extraordinarily impactful as a Penetration strategy can be to the growth of your brand, it is not without its challenges. Many marketers still insist it is much easier to act on Frequency rather than Penetration, particularly for the short-term. Their belief is that a brand can get a faster return on Frequency than it can in the time it will take to expand their customer base. And again, for the short-term, there may indeed be some truth to that.
Additionally, if marketers feel there isn't much potential with increasing Penetration, for example, if their brand has a large household penetration already, then they are more likely to focus their efforts on increasing Frequency instead – even at the cost of discounting. In other words, many marketers tend to focus on the target they know now vs. the target they still need to acquire.
Yet still, with all of these challenges, if revenue growth and profit continue to be the cornerstone of thriving brands and the companies that own them, then Brand Penetration will be… and must be… the primary strategic focus for long-term growth.