CPG Trends 04 March 2022
Our February Roundup: What should companies do in a crisis? Plus, sustainability innovation, rebuilding trust and the power of brand partnerships
With the situation in Ukraine unfolding, we ask what companies can do now. Also, we offer up our monthly selection of news in sustainability innovation, the connection between trust and agriculture, and the growth power of brand partnerships.
With this month has come yet another dramatic turn in world events. With much of our team living and working in Europe, we feel close to the people of Ukraine and have been watching the events unfold with true outrage and sadness. We condemn the invasion and the suffering that is being caused.
At Sevendots, we think often about the impact that we and our clients have on the world around us, and in this spirit, we are examining what more can be done to act in solidarity. We aim to share some more information and insights with you soon.
For now, we offer you the latest in news from the industry in the hope that the months ahead will bring better days.
From the New York Times
Firstly, we wanted to include a quick guide to taking action and helping Ukraine now. We have been looking for meaningful ways to take action as a business and found this to be a helpful resource. Please click the link above to read more.
From Marketing Week
In this piece from Mark Ritson, the appropriateness (or lack thereof) of marketing and corporate gestures is put under the spotlight. It's a topic that is very close to our hearts at the moment, and we felt inspired by Ritson's take on the matter. He says:
"Anyone on social media with a conscience and more than five minutes to doom scroll through their feed was inevitably dumbstruck by the juxtaposition of the everyday marketing minutiae of influencers, advertising and awards and the posts that followed showing men and women preparing for darkness, war and death."
Ritson outlines a few of the key pitfalls that brands fall into during times of crisis and suggests two keys ways to behave appropriately now: don't make an empty gesture, and focus on the long term loyalty generated by action now.
In short: Brands need to be considerate about how they respond in a crisis – empty gestures do not cut it. Ritson discusses some major missteps, as well as a considerate way to move forward.
From Marketing Week
Following up on the article we shared in our last roundup which responded to the criticism levelled at Unilever for its focus on purpose-led brands, it has been reported that CEO Alan Jope announced:
"[Unilever's] 13 billion-euro brands grew an aggregate 6.4% in 2021. Of those, Dove experienced its fastest growth in eight years at 8%, while Jope called out Hellmann's 11% growth and Ben & Jerry's 9% growth as "key performances" within the group."
Sevendots Partner Colin McAllister had this to say:
"It would seem that consumers continue to respond positively to purpose-driven brands – even those that have recently come under fire from a few investors. There is evidence that these brands significantly outperform the rest when consumers vote with their wallets."

– Colin McAllister
In short: Unilever's CEO Alan Jope has responded to the criticism of its purpose-led brands, indicating that Unilever will continue to pursue its long-term goals which includes building a "purpose-led, future-fit organization and growth culture".
From World Economic Forum
Forming part of the Davos agenda, this piece by Svein Tore Holsether explores the connection between regenerative agricultural developments and the ability to improve consumer trust. In this short, sharp summary, we see three key ways to better link the importance of good agricultural practice with the consumer, in response to the way in which trust has declined. "The solution is in the soil," the author says. We agree!
In short: Pay farmers the right price, provide full transparency to the consumer and treat soil as an asset class. These are the three takeaway points to better establish the potential between regenerative agriculture and consumer trust.
From the World Economic Forum
In this livestream, hear from key sustainability and strategy leaders from Nike, Accenture, AB InBev and Ecolab, discussing the innovation that can push us towards a more circular economy. The talk also showcases 17 start-ups who are leading the way in innovating solutions across the globe.
"We're trying to tackle a systems problem… we need to create space for innovation [and] tackle the shared challenges, that society faces… the beauty of this programme is that we are uniting the innovators with industry to provide feedback to each other about what is possible."

Ezgi Barcenas, Chief Sustainability Officer, AB InBev
The emphasis is very much on cooperation, acknowledging that there is no one company that can provide all the ideas required to make real change. Included are a lot of inspiring examples included of the creativity that is out there today.
"The combination of innovation, collaboration, entrepreneurship, and cross industry collaboration – these come together as accelerants for the work we have to do…"

Noel Kinder, Chief Sustainability Officer, Nike
In short: This livestream is a peek into some of the global innovation aimed at implementing solutions to push us towards achieving circular economies.
From the New York Times
In this series from the New York Times, our food system is roasted – the series is called 'We're Cooked' and examines the broken food system, alongside opportunities around protein production and consumption today. In this video, a graphic examination of factory farming and the true cost of producing this protein come under the spotlight.
"There's nothing natural about your cheap chicken."
It's a call for change, aiming squarely at the suppliers who control how and when farming occurs. Coming up against a powerful lobby, it is clear that there is a lot more to be done to change the food system that impacts our climate. Sevendots Partner Eugenio Perrier comments on the series:
"The food industry can't wait any longer when it comes to embracing sustainability. It's vital to have a strategy that acknowledges the role of alternative proteins – failing to do so feels like the famous Kodak error, of failing to recognize how digital would change the way we all take pictures. Managing opportunities for new forms of protein is an imperative."

– Eugenio Perrier
In the other videos in this series, the New York Times examines the lobbysists in more detail, as well as a potential protein solution that may minimize the harmful impacts of the food system as it stands today – insects.
In short: In this series, the New York Times examines the lobbysists and suppliers that facilitate a broken food system. They also offer a look into insects as a possible protein solution.
From AdWeek
In this new ad, Heinz draws on the trending genre of apology ads to launch its latest product – pasta sauce. With a full page spread in The Guardian and a billboard in Leicester Square in London, the ad definitely catches the eye:
"…We're late. Not by minutes, not even by a few days, but years. 150 years. Let us explain."
Suggesting that the sauces are so good they were worth the wait, the campaign certainly deserves a place as a classic of the genre.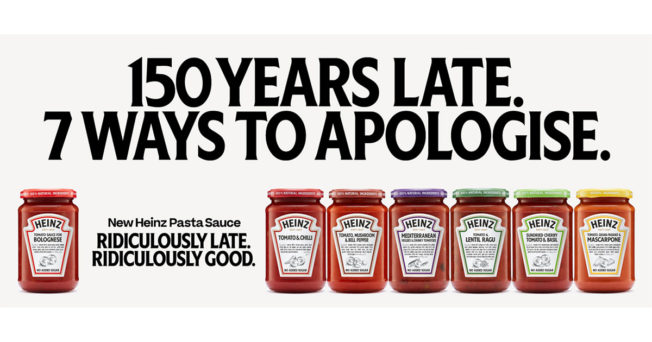 In short: Heinz launches its first range of pasta sauces in the UK in its 150 year history. The ad campaign is clever and eye catching, taking apologies to new heights.
Read on: 'Sorry' doesn't seem to be the hardest word, after all – All Apologies: 5 Memorable Mea Culpas as Wells Fargo, Facebook and Uber Say Sorry. And in other news, Kraft Heinz has struck a deal with Google Insights (Kraft Heinz in Google Insights and Innovation Deal). It's an interesting step in the battle to deliver personalized content at scale to its consumers.
From Nylon
A look into Air Company's use of recycled carbon dioxide to create impurity-free ethanol, which they've so far used to create a vodka, then a hand sanitizer and now a perfume. In this interview with the CEO of the company, Gregory Constantine, we have an insight into an interesting perspective on the role of technology and potential of sustainability in the beauty industry:
"We have such an innovative technology that our belief is that when we're able to put real products out in the world that are proof points of technology, it's the best way to educate people about the power of technology. Especially when you merge technology with creative thinking, anything is possible…"
In short: Recycled carbon dioxide is an area of really interesting innovation. There are all kinds of products being created with this, and Air Company have already tried their hand in several categories. The latest is a dive into the beauty arena with a perfume.
Read on: This Startup Is Trying to Make Juicy Steaks Out of Thin Air. For more exciting uses of recycled carbon dioxide, see Air Protein – that's right, they're making steaks out of recycled air!
From Food Business News
Next Gen Foods has raised $100 million in Series A funding, making the largest Series A to date for a plant-based meat maker. As a result, Next Gen is expected to use the funding to help their product Tindle hit the US market, as well as expanding its R&D capabilities in Singapore.
"Tindle is made with just nine ingredients and is free from antibiotics, hormones, cholesterol and GMOs. The high fiber and high protein meat alternative is available on menus at more than 200 restaurants across three continents. It is served in a wide variety of dishes — from satay and schnitzel to chicken cordon blue — throughout Singapore, Hong Kong, Amsterdam and Dubai."
Our Sustainability Specialist from the Red Flower Factory, Karen Rickers, had this to say about this news:
"As a vegetarian/vegan currently living in Singapore, I am looking forward to seeing what ideas will be developed in Next Gen Foods' new Singapore-based R&D center and how these will help spread awareness of and broaden the current offering of plant-based alternatives in Singapore and beyond."

– Karen Rickers
In short: Next Gen Foods closes the highest Series A funding for a plant-based meat maker. It's big news for the Singaporean company's efforts to innovate plant-based alternatives.
From AGFunder Network
Surveys from Retail Insight have shown that consumers are still looking for grocery stores to improve their sustainability credentials, with only 6% of respondents saying they felt retailers were doing all they could do. With 55% of respondents affirming a commitment to being more sustainable as consumers, there are a few interesting takeaways here.
Ideas to help boost sustainability efforts come from the Food Industry Association include, "expanding surplus food donations, developing composting strategies, standardizing date labels, developing 'waste-prevention cultures' in their organizations, and setting waste reduction goals."
In short: A Retail Insight survey shows 67% of consumers expect more from grocery stores on sustainability. 70% felt retailers sold goods with excessive packaging, and 56% wanted to see improvements in supply chain sustainability. In all, plenty of room to do more as far as consumers are concerned, with loyalty on the line – 55% said they'd be loyal to a brand they perceived as more green.
From Marketing Dive
A fascinating look into some great examples of successful brand licensing partnerships and how they can help bring brands to new audiences. Hershey's have over 150 licensing agreements, serving up some really interesting case studies for the industry:
"Research conducted for Hershey by Numerator in 2019 found when consumers purchased one of the company's licensed brands like Reese's Puffed Cereal or a Hershey baking mix — both collaborations with General Mills — shoppers were on average four times more likely to also have purchased a Reese's or Hershey's confectionary item during the same shopping trip."
Whether it's helping to overcome the risk of new product launches, or helping a brand enter a new or under-penetrated category, there are a variety of benefits to these partnerships. However, they are "not a panacea. … It takes time just like every other function of the business," says Jeff Dotson, vice president of strategic brand licensing at the Valen Group.
Downsides can include reputation risk from either side, as well as the potential of confusing consumers or over-extending the reach of a brand. With the right partner and the right deal, brand licensing represents a rich vein of potential for the CPG industry.
In short: Brand licensing is a place of opportunity for CPG brands. In this piece you'll find a series of benefits and drawbacks alongside a series of case studies – particularly from Hershey's, who have leveraged such deals to great effect, creating over 150 agreements to date.
From Marketing Dive
In this piece, Folgers launches a campaign aimed at reintroducing itself to young consumers.
"Millennials and Gen Zers, who once skipped brewing their own Joe in favor of a morning stop at Starbucks on the way to the office, have purchased French presses, espresso machines and other coffee makers in massive numbers as they adjust to working from home."
Seeing this opportunity, Folgers decided to launch a 60-second spot entitled "Allow Us to Reintroduce Ourselves." It is "a bit of a marriage of the old and the new. This is a brand that's been misunderstood for so long," says Eric Roberts, chief creative officer at PSOne and Publicis New York.
Using music and a catchy hashtag, the brand has targeted collaborations with TikTokkers, as well as spots in publications like Vice, as well as launching a dedicated page to explain their company history and the work they are doing to change their reputation as old or has-been.
In short: A new campaign from Folgers hits a series of touchpoints designed to reintroduce itself to young consumers. Leveraging the trend towards home-brewed coffee post-pandemic, the campaign aims to foster pride in drinking Folgers coffee.
---
That's it for another month. If you'd like to receive more interesting content from us, check out our most curated knowledge with our latest Growth Series report on Big vs Small brands.