CPG Trends, Data & Analytics 21 January 2022
Leveraging our expertise to understand the future of CPG: Announcing our Futures Platform partnership
A new way to benefit from our CPG expertise. Announcing our partnership with the Futures Platform.
We know the CPG industry is facing unprecedented challenges. These will impact the consumption models of the future, and the way value is generated. Adequately capturing these challenges is not easy, but it can make a big difference for sustaining the long-term growth of a business.
More ways to harness our knowledge
As an organization, Sevendots is global and fully focused on the CPG industry, and we regularly work alongside the largest multinational companies on a wide variety of CPG projects. Owing to the broad experience of our team of senior partners and the structured methodologies we use to distill knowledge and information, we are able to effectively monitor and capture key trends as well as weak signals impacting the industry. We can transform these into clear indicators used to inform decision making for our clients.
This is why we work consistently to share knowledge around key topics in the industry, how they impact the decisions brands make and the future of the CPG industry. Part of this work has involved the creation and dissemination of our Growth Series reporting.
Now, as part of our mission to keep offering the best of our expertise and knowledge-gathering from within the CPG industry, we have partnered with the Futures Platform to offer a curated selection of the most relevant foresights impacting the CPG industry.
Benefit from a broader understanding of the next phase of consumption
Our empowered foresights are available on the platform, allowing us to offer a continuous overview of what will likely impact the industry and how this will unfold.
Every organization can discover a valuable series of inputs for their operational and strategic thinking, using this knowledge to improve the quality of their decision making.
Every foresight we offer comes in a clear and supported format and is regularly updated. The Futures Platform's interactive interface allows you to effectively identify foresights of interest to your business, and we build on this knowledge through our collaboration activities.
About the Futures Platform
Futures Platform is the industry standard source for future trends, scenarios and long term change. It's a full-functionality visual and collaborative toolbox for foresight and management teams, ensuring future-proof strategy and innovation work and key decision-making.
The solution brings together an AI-powered digital foresight platform and the expertise of professional futurists. At its core, the platform features more than 800 analyses of future phenomena – from technological and environmental to societal change, with a focus on the long term. These compact, easy-to-digest scenario descriptions are combined with auto-crawled additional information from validated sources.
The visually engaging, collaborative foresight radars map interconnections between phenomena and allow teams to understand alternative futures and co-shape future-proofed strategies together. On top of this, a team of professional futurists and foresight consultants are there to help and guide organizations on any related matter, from custom scenario analyses and horizon scans to building organizational foresight capability onto the next level. Learn more here about our partnership.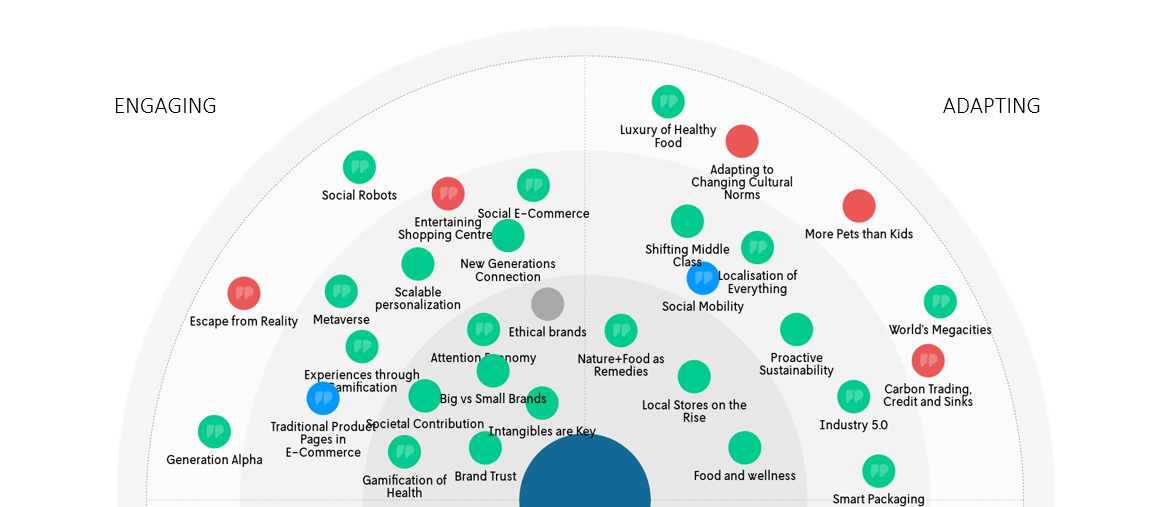 Lighting the path forward for consumer brands
The Futures Platform's CEO, Juha Mattsson says:
The CPG experts at Sevendots have done an outstanding job in collecting and summarizing the key long-term developments that consumer brands are likely to face, especially as we look five to fifteen years into the future. These megatrends and scenarios match perfectly with our existing 800+ futurist-generated foresight analyses and, as such, are essential must-read content for the consumer brands intending to shape the future of their markets.
Download more information
Find information about our Sevendots x Futures Platform offering here.
Any questions you might have, please get in touch.