CPG Trends 05 April 2023
CPG Food trends from Expo West: What CPG Companies can learn from one of the biggest food & beverage expos
CPG food trends from Expo West 2023: New grains, new hero ingredients, and the future of plant-based.
Sevendots Partner Eugenio Perrier recently visited Expo West, the Natural Food Show held at Anaheim, in California, between March 7th – 11th 2023. From that visit, we wanted to share six trends from the food industry that he noticed from attending the event:
Here they are:
It should be noted that these were just a few highlights from the event, representing just a fraction of what was on offer. Let's take a look into these six takeaways further and their repercussions for the CPG industry and CPG brands.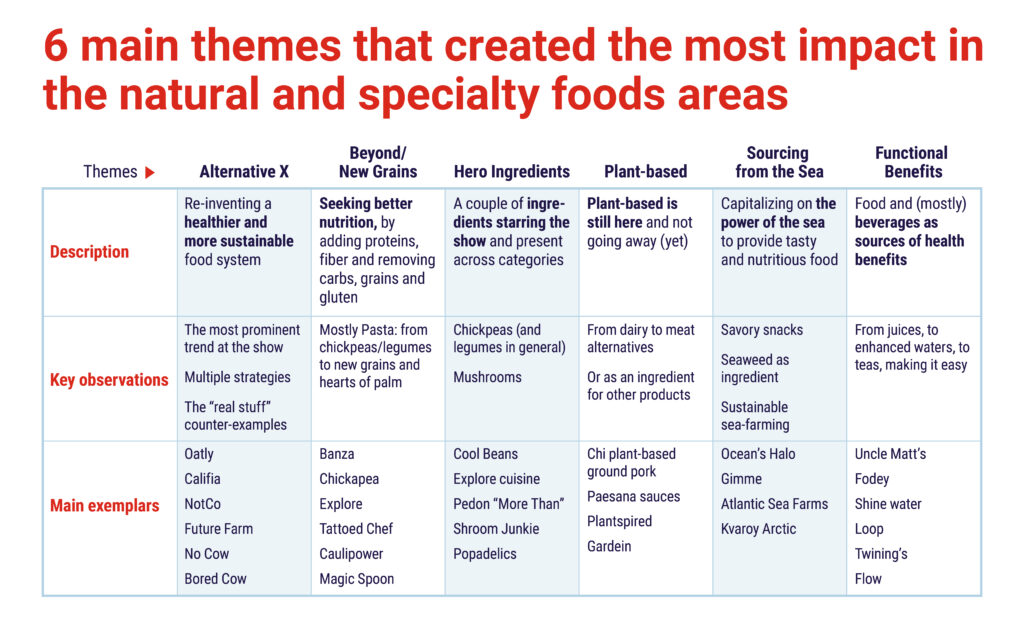 1. Alternative X: the "not" this trend
As part of the efforts to re-invent the food system and address sustainability concerns, this trend looked to create healthier and more sustainable options for consumers by replacing animal-based products with "not" alternatives – not milk, not meat, not eggs, etc. Plant-based protein has been a big topic for a while, but the expo demonstrated new strides in this area.
This was amongst the most prominent trends on display, and it was clear that there were already multiple strategies underway to move towards this goal. Notable examples included Oatly, who continue to stay the course with their messaging, but also introduced new products like a non-dairy whipped cream for toppings.
However, this trend was no longer just about providing just a plant-based approach to alternatives. It also included fermentation, and lab-grown options. In particular, the rise of precision fermentation examples was of interest, as this topic that has gained a lot of hype is now becoming very tangible. Bored Cow provided an example of real milk protein created with fermentation – "real dairy without the cow".
It will be interesting to see how consumers and critics alike will respond to the tension between the call for natural food products and sustainable ones. Some other notable examples included Califia, Future Farm, no cow, and NotCo.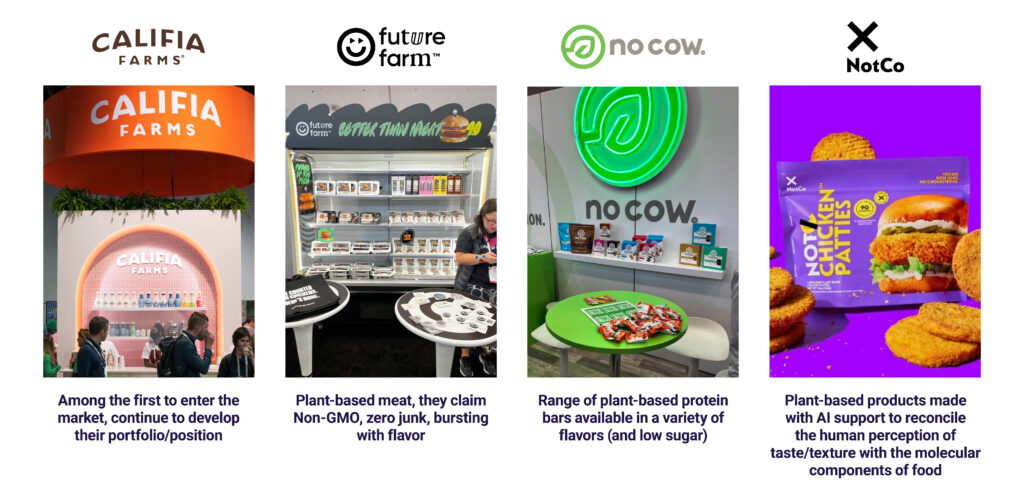 Equally, there were some "real" counterexamples, such as the one from Applegate, demonstrating a commitment to providing the "real" option in a way that is still responsible. They provided facts and data to support the "real meat" proposition, with "regenerative", "clean" and "organic" used as keywords to support their relevance.
2. New gains from grains
In the pursuit of better nutrition, there were a variety of interesting innovations particularly in the pasta category, which sought to find new grains and provide additional protein, fiber and less carbs or gluten.
This resulted in many products in the category made from chickpeas or other legumes. Banza in particular is a success story here, with their pasta available in 18,000 US stores. Other examples included Chickapea, Explore Cuisine, Veggipasta and Taste Republic.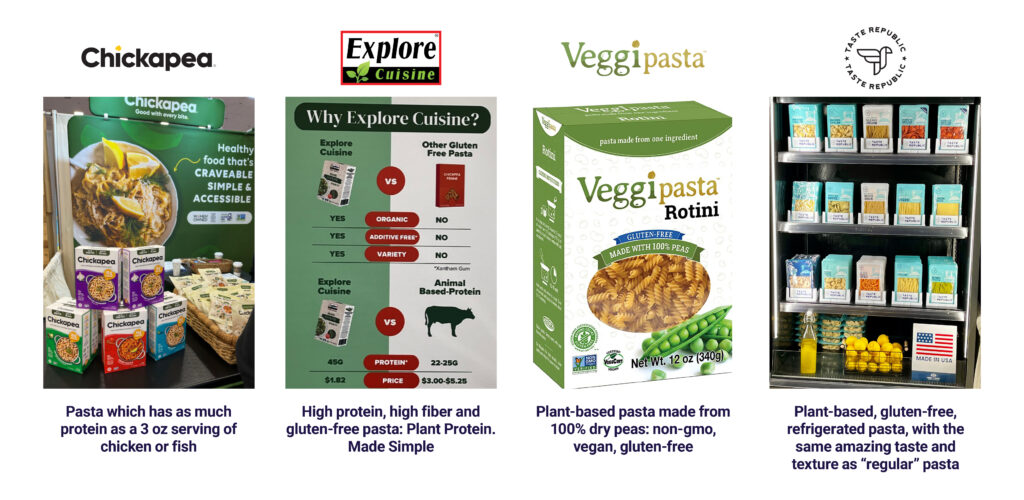 Another example of interest came from 3 farm daughters: their pasta is made using Healthsense, a naturally high-fiber wheat flour variety, alongside semolina. As a result, the product offers 9x the fiber of traditional pasta.
This trend piqued our interest as a welcome series of innovations on a category that is traditionally associated with comfort eating, providing something new and exciting for the pasta aisle in terms of flavor, color, texture, etc. Additionally, getting more nutrition from this category is a welcome innovation.
3. New hero ingredients
Standing out amongst the crowd of innovative new products were two hero ingredients: chickpeas and mushrooms. These were present across categories, with legumes featuring not just aforementioned pasta category, but also in wraps, ready meals, etc. Examples included Cool Beans, More Than and Green Chickpea Bowl.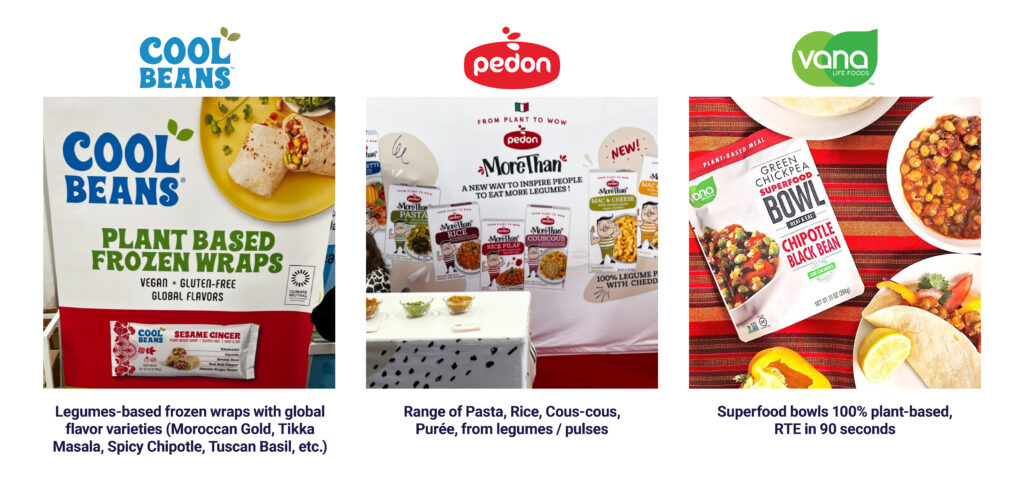 Mushrooms were also a big highlight of the show across many categories within plant-based foods and alternatives, as well as for more conventional products – from milks made of mushrooms, to providing the hero ingredient for chips to snack on, and even in cocktails with functional benefits. Examples include Shroom Junkie, Popadelics, and Sol Bru.
4. Plant-based continued
Plant-based is certainly here to stay. Continuing to be popular and present in industry trends, plant-based products were on display from traditional through to completely new applications.
This included existing plant-based products used in other products (such as Paesana's pant-based Bolognese made with the plant-based meat alternative Beyond Meat), as well as entirely new alternatives. At this end of the spectrum, plant-based Asian-cuisine inspired ready meals were of interest.
Examples of companies present and offering plant-based alternatives included Paesana, Chi, Gardein and Plantspired.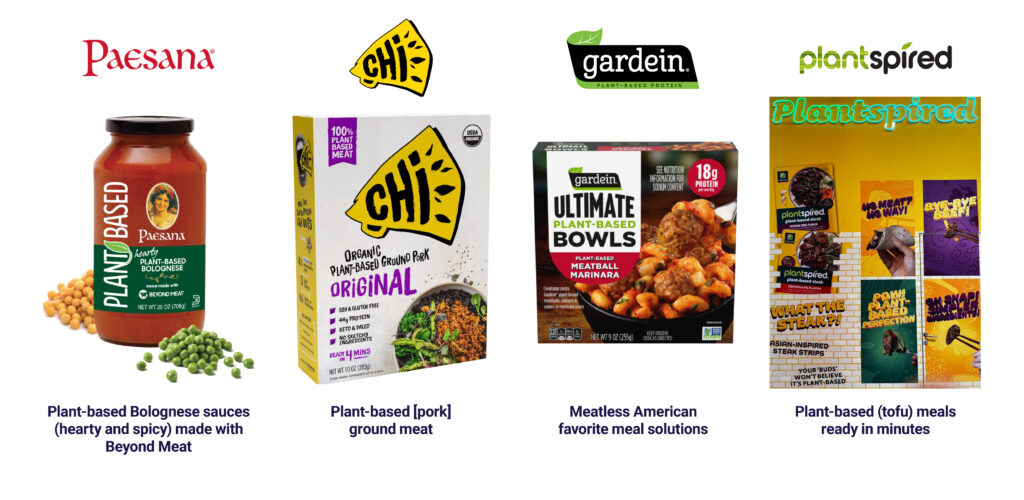 5. Sourcing from the sea
This trend has been appearing across categories and continues to grow – sourcing from the sea or using the sea as a way to overcome agricultural challenges. Everything from applying seaweed in whole new ways to reimagining the way fish can be integrated into products, was on display here.
Sourcing from the sea has been seen as a way to capitalize on the power of these ingredients to provide both tasty and nutritious food options. Examples included the use of seaweed in savory snacks, as an ingredient for products including burgers, salads, smoothies, etc. Sustainable salmon farming, on the other hand, was highlighted as an ingredient in burgers and hot dogs. Example brands included Ocean's Halo, Atlantic Sea Farms, Egglife and Kvaroy Arctic.
6. Functional benefits
This refers to foods, but primarily beverages, that provide a supplement or an additional health benefit. This is a trend that has been going for some time, but there was certainly a presence of innovative new products at the Expo. Beverage products in particular support this proposition, with everything from juices to flavored waters, teas, and more, on display. In many instances, there was overlap here with the new hero ingredient mushrooms, which is set to become increasingly important in the coming years.
There were also other products featuring functional benefits, including Fody's gut-friendly condiments, made without onions or garlic that are known to trigger bloating. Other such examples included Mission Loop's cold-pressed beverages, and Twining's Wellness Teas. Products with functional benefits continue to expand, providing problem-solving solutions through food and beverages.
---
When it comes to addressing climate change and sustainability concerns within the food system, as well as changing consumer behaviors and the influence of the next generation of consumers, including millennials and Gen Z consumers, we see a variety of interesting new approaches and products within the consumer packaged goods industry. What are the food trends that are exciting you the most?