Brand Purpose, Growth 11 November 2014
Why Corporate Social Responsibility is no longer enough
Note: This is from our old blog and is no longer being updated. It was originally published in 2014.
Brand social responsibility is the future…
We've all heard of Corporate Social Responsibility and you may have even contributed to a lengthy Global Sustainability Report targeting your company's corporate stakeholders. But is "doing CSR" really enough?
What about your consumers? Do they see you as responsible or care about your sustainability report? Surely you don't believe that any other than the fiercest eco-warriors among them actually read it?
The crucial difference between Corporate Social Responsibility and Brand Social Responsibility
CSR is absolutely critical to any company strategy – but if you stop there it is corporate "risk management", a necessary cost of doing business.

BSR however is not a cost, but an investment in transparency with consumers which builds trust and affinity and drives growth.
Corporate speak does not resonate with consumers but great brand communication does. And because consumers are increasingly environmentally aware, and wanting to feel and look mindful in their brand choices, having a clear BSR message can nowadays be a growth driver.
Examples of BSR in action
Innocent® – the fruit juice and smoothie brand has BSR at the very heart of its Brand Essence.
Innocent grew to a $300+ million brand before attracting its now majority shareholder, Coca-Cola. They differentiated their premium priced products by creating brand value – superior quality from sustainably sourced ingredients which do you good and does the planet good hence their strap line "Tastes Good. Does Good".
The brand has wisely been left free by Coca-Cola to preserve and develop its own culture and brand identity and is continuing to communicate that proposition.
Their new TV commercial Turning Mangoes takes their BSR efforts one step further by focusing on their sourcing credentials:
Nespresso® is making a new tangible commitment – every sip of Nespresso® makes a difference to the planet.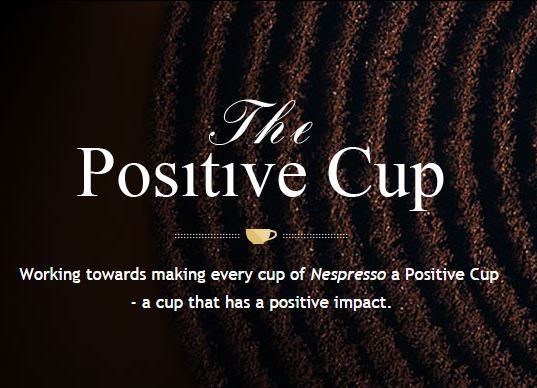 Nespresso®is a brand with its share of sustainability problems in the past with all those waste aluminium
capsules. But it has now understood the need to bring brand social responsibility into the core of what it stands for in order to continue to grow in the future.
In August 2014 Nespresso® made a commitment to all stakeholders through The Positive Cup commitments which mean by 2020 they will be:
Sourcing 100% of their coffee sustainably

Managing 100% of aluminium packaging sustainably
Ensuring their climate impact is 100% carbon neutral
To do this Nespresso® has made commitments to programmes in agroforestry, signed up to the Aluminium Stewardship Alliance, made investments for Colombian coffee farmers and is investing in sustainable coffee sourcing in East Africa.
By interweaving its CSR efforts so overtly with the brand, Nespresso® has made the important step to gaining and retaining consumers with sustainability commitments.
Is BSR essential?
So for brands grounded in sustainability at their origin or not, BSR is becoming an ever more essential ingredient in the DNA of all brands who want to retain the loyalty of increasingly socially and environmentally conscious consumers.