Growth, Sustainability 20 December 2021
The future of value generation in the CPG industry: Understanding new forms of economic activity
The CPG industry has been essential for economic growth. With change comes a new source of value generation. Introducing our take on the future of value generation for the generations to come.
The CPG industry has been instrumental for economic growth. Big multinational companies have contributed immensely to the global economy, by producing and effectively distributing goods to a broad number of consumers. In the USA, for instance, the CPG industry contributes $2 trillion to domestic GDP, supporting 1 out of 10 American jobs and being the largest employer in the country.
The main value generator has traditionally been the ability to increase affordability and accessibility to goods and this has been achieved mostly through a leverage of scale, first at a sourcing and manufacturing level and then also at a distribution and marketing level. The economy of scale will continue to play a major role in the future, but we can see a progressive shift of value generation into new relevant areas that will shape the long-term evolution of the CPG industry.
The future of value generation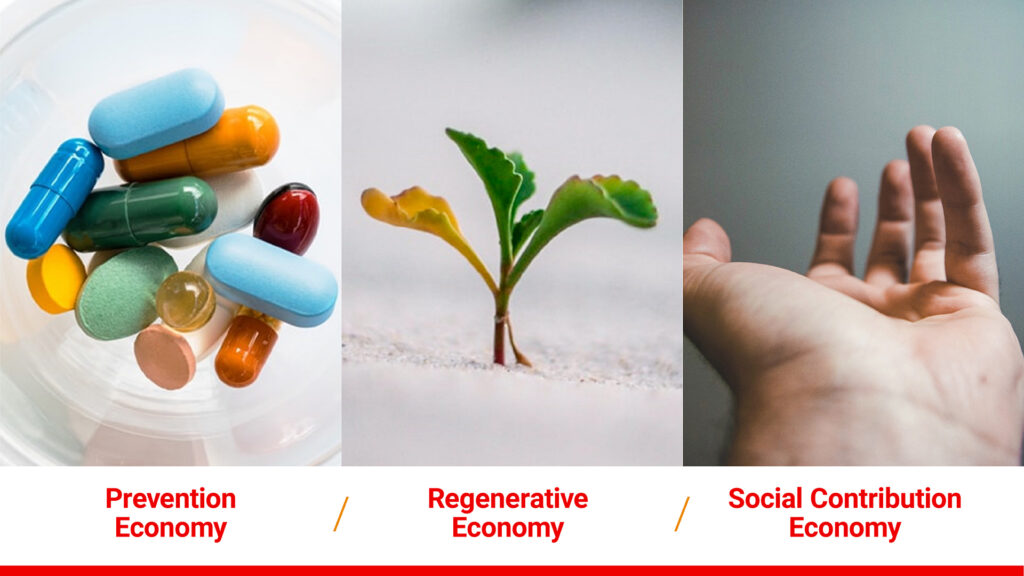 The way that value will be generated in the future will shift, as a result of the ongoing changes to the world around us. The CPG industry has an opportunity to start thinking about the nature of this change, and how future value can be generated in the face of new economic activity. There are three areas that we can see that will help shape future economic growth.
The Prevention Economy
If there's one thing the pandemic has taught us, it's the value of planning ahead. Prevention is a requirement when it comes to healthy economic activity – and healthy, full lives as human beings broadly speaking. We not only expect to live longer, but also in good conditions. A culture of prevention is therefore expected to become all the more pervasive, as the pandemic highlights the value of controlling risk. The Preventative Economy, therefore, will help consumers anticipate problems and increase the feeling of control over their own destiny.
Looking at projected health care spending, there is a shift from Caring and Treatment to improving Health and Wellbeing, in line with anticipated changes in consumer expectations. Large CPG companies will be able to leverage this consumer expectation by focusing on their capacity to demonstrate and provide strong preventative benefits, impacting consumer lives.
Over the next 20 years a major shift is expected in Health Care spending from Curative to Preventative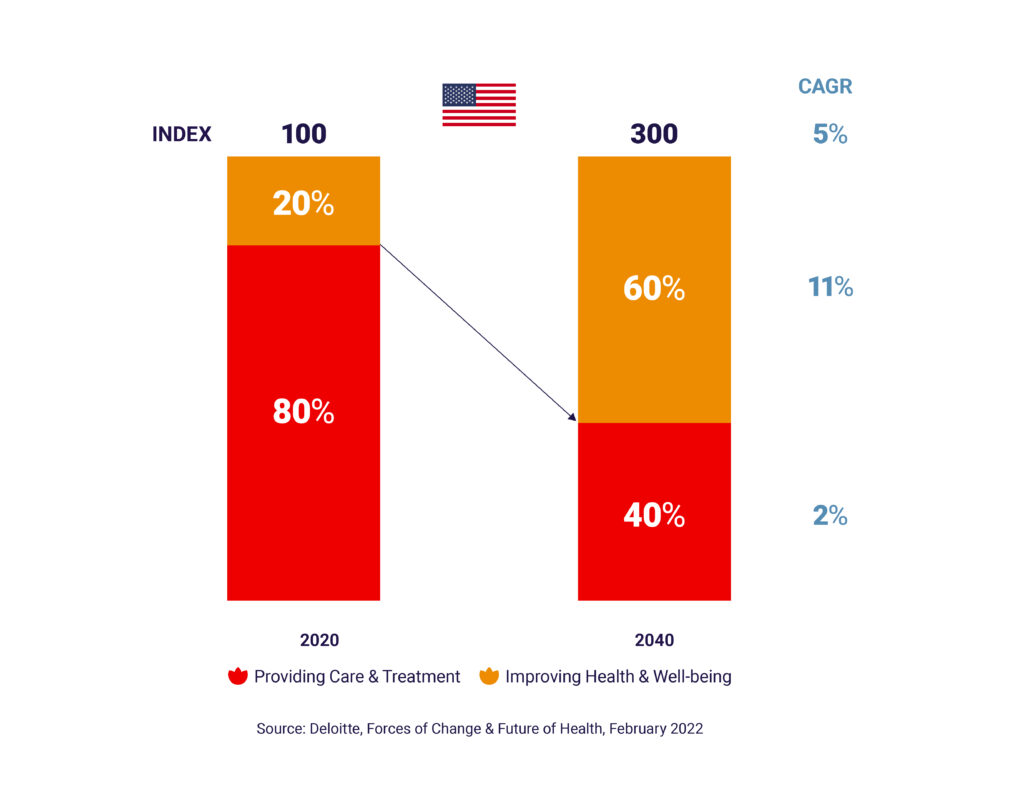 Companies and brands attempting to meet consumer expectations have already begun developing statements showing their commitment to increased preventative benefits. Take this example:
"At Danone Nutricia Research, we study the effects of nutrition on immune health for people with altered nutritional needs and/or age-related changes."

– Danone Nutricia website
In 2020, for instance, Unilever reported a sales spike in beverages that contain zinc and Vitamin C, such as the Lipton Immune Support tea. The company is therefore rolling out similar products worldwide, aligning its innovation priorities with the emerging health and wellness concerns of consumers.
The Social Contribution Economy
It's not new that consumers have increasingly expected a social contribution from brands and companies, and this has only been further boosted by the pandemic. This seems to directly correlate with the diminishing trust in political institutions. Despite the supposed disconnection that accompanies new technological means of communication, consumers are interested in the people behind the brands they engage with – after all, companies are made up of people, and are seen as an integral part of society.
In a Sprout Social survey, 72% of respondents stated that they expect brands to "be positive contributors to society". This may well manifest through products and services, or indeed through direct interventions beyond the brand's core activities. Expectations of brand social contributions are increasing. We can already see the relationship between there being a strong purpose driving a brand and its growth and profitability:
High Purpose companies have delivered stronger, more resilient revenue growth
Revenue growth: High vs. low purpose (Q4 2019 – Q4 2020)
104 global brands reviewed across 13 purpose score factors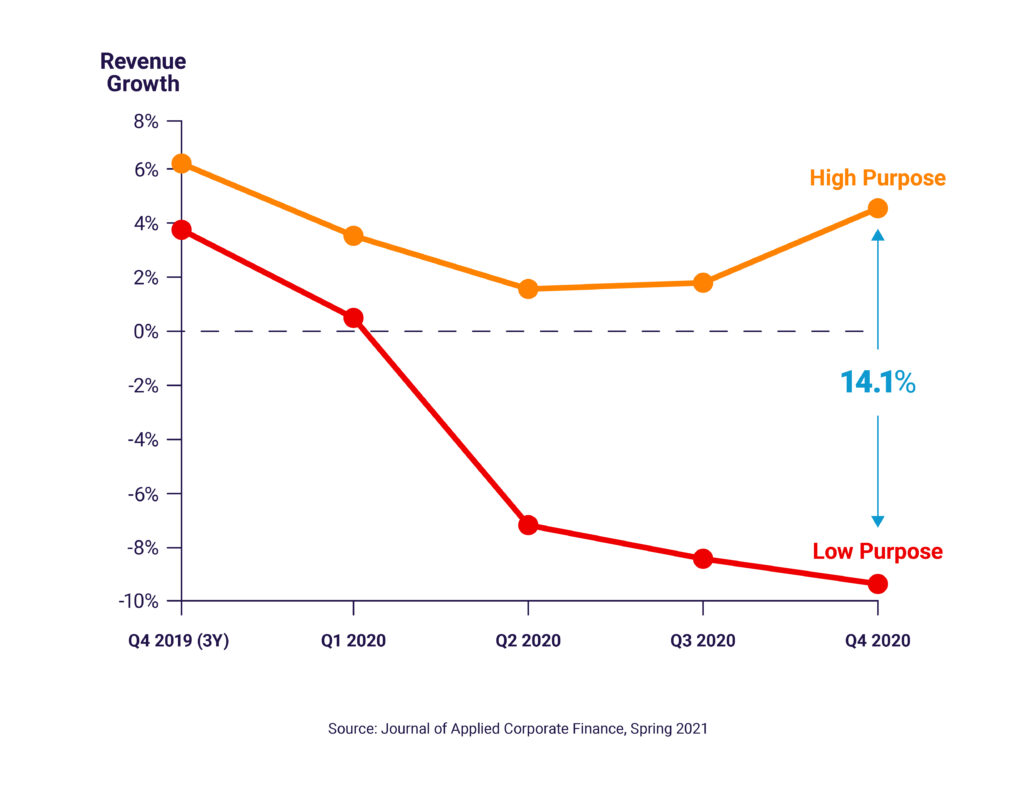 Revenue growth advantage: High vs. low purpose (Q4 2019 – Q4 2020)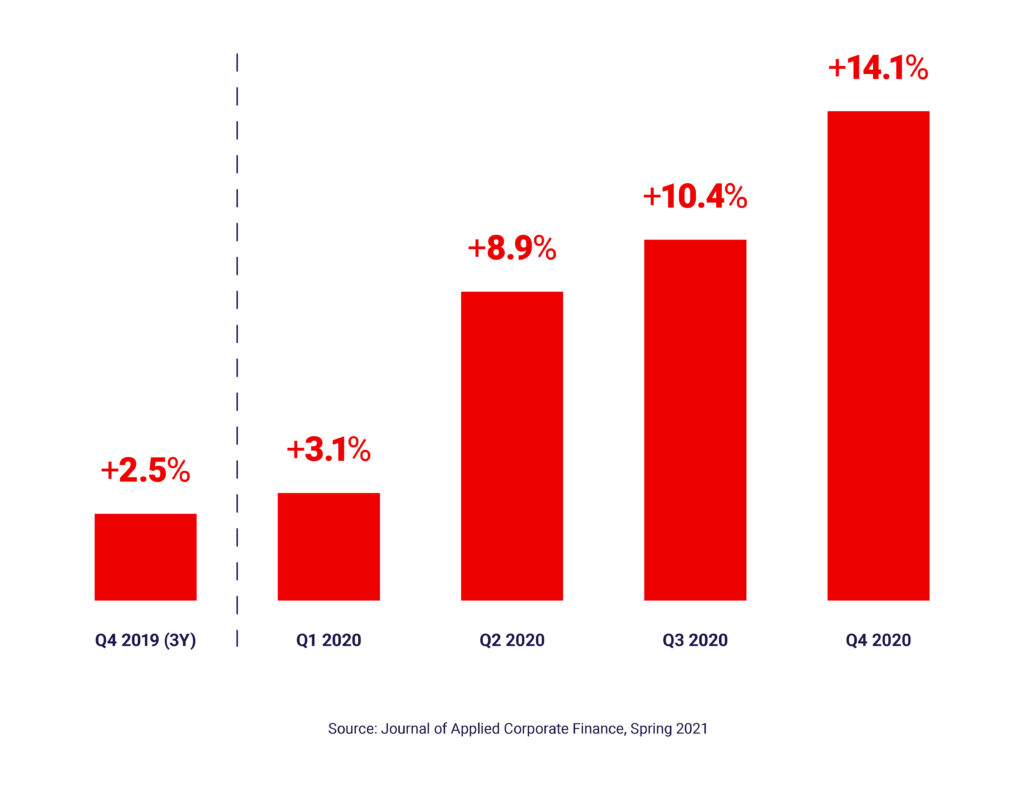 High Purpose companies have delivered stronger, more resilient profitability
Operating margin: High vs. low purpose (Q4 2019 – Q4 2020)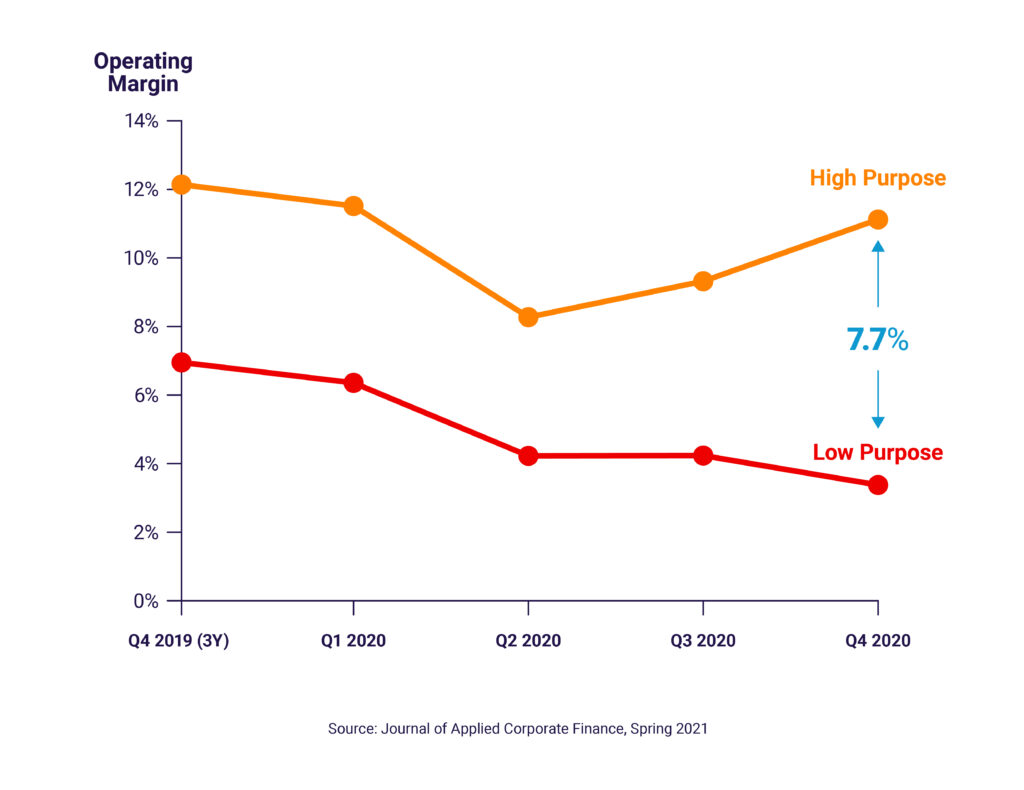 OPerating margin advantage: High vs. low purpose (Q4 2019 – Q4 2020)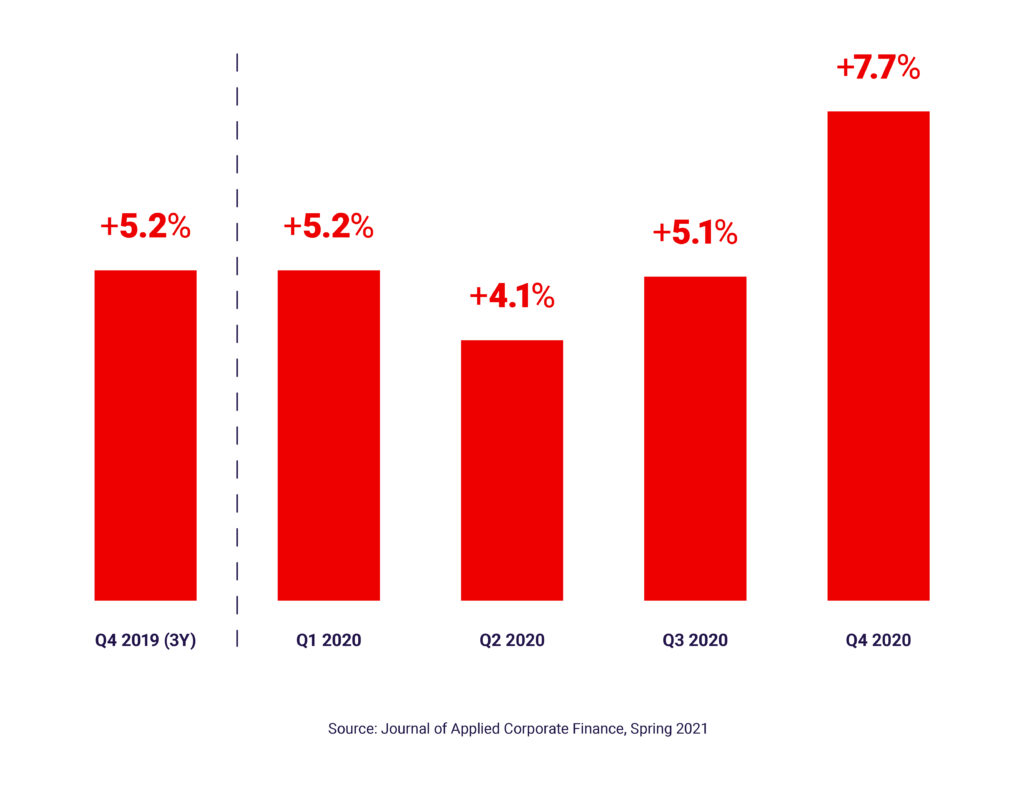 This attitude towards companies produces consistent financial value, as several studies are proving. The Social Contribution Economy has the possibility of generating consistent value and growth for many years.
The Regenerative Economy
Finally, we have the Regenerative Economy. This begins with increasing the awareness of citizens and institutions on the dramatic impact of climate change, and its associated social inequalities. We are already seeing the impact of these on the lives of many, with rising temperatures, weather disasters, as well as climate-driven immigration and poverty.
We're particularly aware that it will not be possible to simply avoid 'damaging' the climate – there is also a need now to do more that is proactive, rather than simply undoing previous damage, to bring things back on track. Technology and science will be fundamental tools to achieve this.
"Transforming the way we live could even be made possible by turning carbon dioxide into a resource – by exploring innovative technologies that convert it into energy, breaking the cycle of greenhouse gas pollution."

– Henkel website
The Regenerative Economy is based on products and services that not only have zero impact, but that provide a positive impact. Take the example proposed on the Henkel website in the quote above – utilizing carbon in an innovative fashion may be just one way to determine innovative solutions that turn a negative impact into a positive.
"With our long-standing partnerships with farming communities globally, we want to increase our support for farming practices that are good for the environment and good for people."

– Mark Schneider, Nestle CEO
We have seen how big CPG companies are starting to use the word "regenerative" to describe initiatives for their external communications, applying this to their future ambitions and activities overall.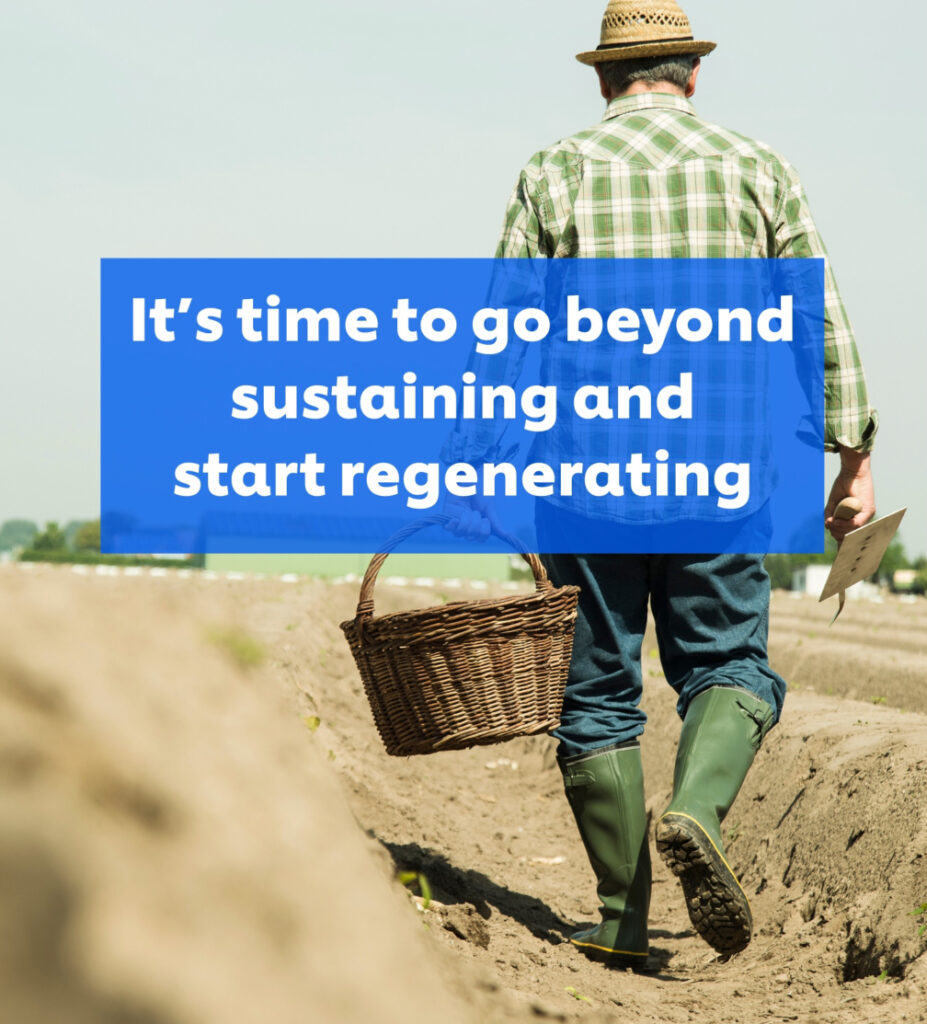 While regeneration starts to become a term of interest, we can see how products that may utilize CO2 as an ingredient, as well as products that are produced with regenerative agricultural practices in their supply chain, may assist in bringing this concept of the regenerative economy to life. Take Coty and LanzaTech as other examples – by introducing a high-purity and sustainable ethanol solution sourced from industrial carbon emission (including carbon monoxide and CO2 produced in steel manufacturing), they have been able to introduce this into some of Coty's fragrance lines. Sustainable ethanol brings this concept into reality.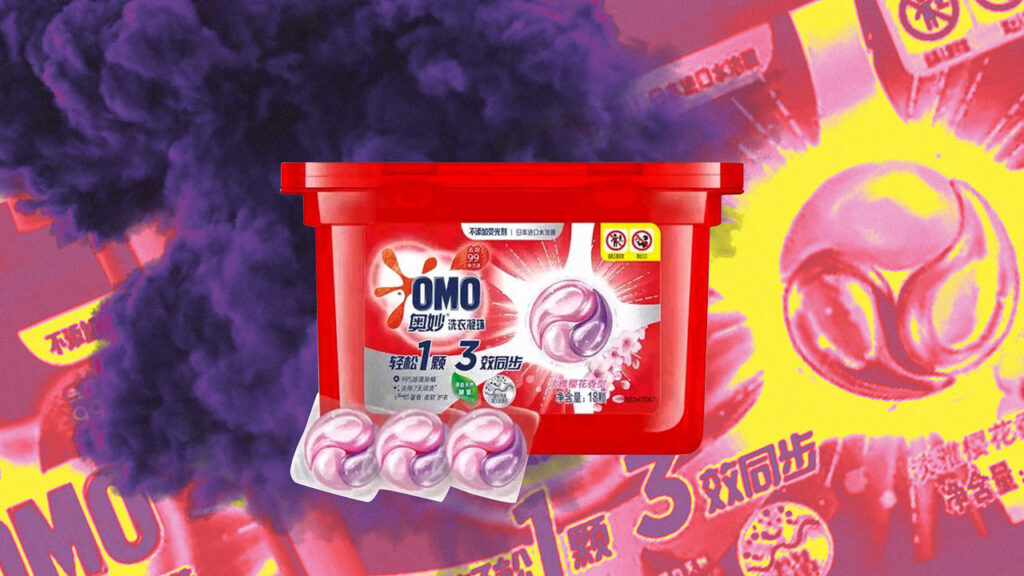 Additionally, Unilever partnered with LanzaTech and India Glycols to produce a surfactant made from industrial carbon emissions instead of fossil fuels. With no additional cost to consumer, the surfactant will be used in an OMO (Persil) laundry capsule and was launched in China on World Earth Day.
Beyond capitalism as we know it
While we anticipate these three emerging economies, we still must address the fourth: our current, well-established form of capitalism. Since the 1970s, labor remuneration and general productivity have increasingly lost correlation. Capital has a much higher remuneration than labor, and this is the origin point of rising inequalities. We see economic power alongside a concentration of wealth as a result. This limits the potential of these three economic forms developing.
With strong capital remuneration, the abilities of new economies to produce value is limited, as it limits the speed of demand generation. Addressing this will require a coordinated international effort, as single countries may have limited capacity for major interventions. However, companies continue to have the opportunity to think ahead – demonstrating innovative actions in the direction of these three areas will future proof the work of the biggest players. All actions in this direction will assist us in where we need to go.
---
This is the first in our series on the future of value generation. In our next piece, we will dive deeper into the Regenerative Economy – what this means, its implications for the CPG industry and what companies are already doing.